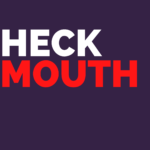 The folks behind Strength Check introduce to you our newest podcast project: HECKMOUTH!
Deep dives into film and TV, from single episodes to entire franchises and filmographies.
Hosted by Andy Wilczak and Adam Griffin and released monthly?! (We're figuring that out still); dedicated feed available soon.
On this episode, we discuss the Scream film franchise!
Follow the show on Twitter: @heckmouth