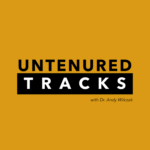 This week, I talk to Dr. Breanna Boppre about her work on parental incarceration and her family's experience with this subject. Dr. Boppre is an assistant professor of criminal justice at Wichita State University.
You can follow Dr. Boppre on Twitter @bree_bop and the show at @UntenuredTracks
We also have a youtube page now to house guest lectures for people to use during the move to online teaching. Search 'untenured tracks' on YouTube for our channel.