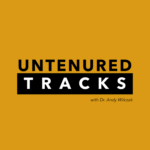 This week I talk with Dr. Tara Sutton, Assistant Professor from Mississippi State University. Tara has recently joined the faculty in Fall 2018 after receiving her Ph.D. from the Department of Sociology at the University of Georgia. Dr. Sutton's research is focused on the social and family contexts of intimate partner violence, sexual assault, child abuse, and other criminal, violent, and deviant behavior among adolescents and young adults. She is particularly interested in violence against women and children, the intergenerational transmission of violence, and women's crime.You can follow Dr. Tara Sutton on Twitter @queerfemprof and the show at @UntenuredTracks
We briefly discussed NPR's Caught podcast & the Ear Hustle podcast.
We also have a youtube page now to house guest lectures for people to use during the move to online teaching. Search 'untenured tracks' on YouTube for our channel.