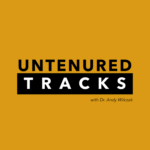 This week, I talk to Dr. Danielle Slakoff, incoming assistant professor at Sacramento State University, about her research on domestic violence and media.
Other podcasts discussed in this episode are:
Cold
Dirty John
Over My Dead Body
Someone Knows Something
The Teacher's Pet
Bear Brook
You can follow Dr. Slakoff on Twitter @DSlakoffPhD and the show at @UntenuredTracks
We also have a youtube page now to house guest lectures for people to use during the move to online teaching. Search 'untenured tracks' on YouTube for our channel.